Digital Rights Management (DRM) is a method of securing digital content from unauthorized access and distribution (Piracy), and as more content is being delivered via OTT services, DRM has become a necessity. Working with digital rights management (DRM) to protect the video content can be a complicated task with the number of technologies and devices in use. The term DRM sends a panic signal to most of the technical leads, business analysts and developers. A lot of R&D is required to understand the DRM system and supported devices for different studio DRM. To add the DRM support of ClipBucket OTT/VOD platform, we have done a lot of research and analysis on DRM. Simply put, DRM ensures that video content is stored and transmitted in an encrypted form so that only authorized users and devices can stream the content. When a user device requests to stream a video, the video player requests a key from a license server, the licensing server determines whether the user and device are authorized to access the video content before issuing a license response with a decryption key, once the license is issued, encrypted file is transferred to the device and the player decrypts and streams the content for the user.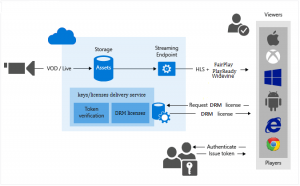 There are a lot of DRM systems available to protect video content, and you need every DRM supports a different set of playback/user-end devices. So to support all popular browsers devices you need The Big Three DRM systems.
Google's Widevine: Widevine (Modular & Classic) protected content can be streamed on Google Chrome and Firefox web browsers, Android smartphones/handheld devices, Android TVs/STBs and Google Chromecast devices.
Apple's FairPlay:  FairPlay-protected content can be streamed on Safari on OS X, as well as devices like iPhones, iPads, and Apple TVs.
Microsoft's PlayReady:  PlayReady-protected content can be streamed on in Internet Explorer 11 and Edge browsers, Windows Phone, Xbox etc.

Different devices and platforms support different technologies so you'll need multiple DRM systems to distribute content to all the popular browsers and devices. ClipBucket offers a complete, multi-screen and multi-DRM solution for premium content security and monetization with Verimatrix Multirights OTT plus integration.
Here is a detailed chart of DRM support: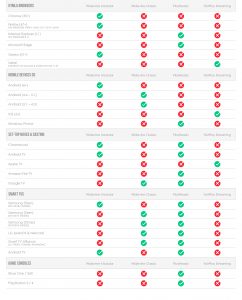 *The comparison chart has was last updated in June 2018.
These studio DRM solutions are expensive and have recurring cost for the providers. We can also offer a custom DRM solution that offers you studio level security but at a better cost.
Contact our business experts to discuss your requirements in details.