Video On Demand (VOD)
Launch your own branded Multi-Screen Video-on-Demand (VOD) Platform in just 1-Click!
Revenue Sharing
ClipBucket revenue Sharing System offers the admin to manage the RPM by regions.
Live Streaming
Looking for Live Streaming solutions? Clipbucket can help you go-live with your content.
Active Directory (LDAP)
With our LDAP integration you can easily use your AD credentials to log into ClipBucket
Player Ads Manager
You can add Preroll, Midroll, Postroll and banner ads by using local videos and images.
Report & Stats
Clipbucket provides detailed statistics about your website like Users, New users, Videos and photos
Adaptive Streaming
ClipBucket provides 2 types of Adaptive streaming solutions, Admin can choose any of these streaming
Content Security
ClipBucket offer end-to-end security to ensure that your video content can only be watched by authorized
Pricing Plans
Purchase the Clipbucket script bundled with one or more services, plugins and options. One License is Valid For One Domain/Sub-Domain.
premium support
Ticket system for Clipbucket Enterprise, Enterprise Ultimate and Corporate customers.
Frequently Asked Questions
Click here for instructions, assistance and solutions on topics about Clipbucket and our extended services.
Community
Our active community is here to assist you and offer tips and suggestions for success.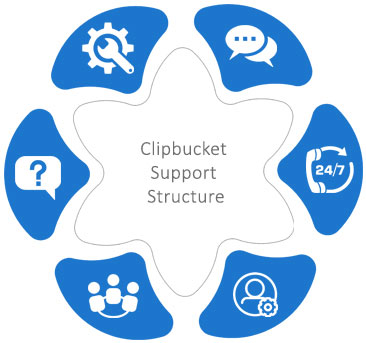 Live Chat
Our live chat is online around the clock to answer your pre-sales and general queries regarding our products
24/7 Support
24 hour support ticket is available for all premium users for issues related to ClipBucket site, Mobile apps or Premium modules.
Dedicated Account Manager
Corporate Clients receive the benefit of a Dedicated Account Manager for direct contact and response
Get Mobile Apps For Your
Clipbucket Video Sharing Website
A whole new experience for your users to enjoy complete content of your site. Now you can have Android and iOS apps for your own ClipBucket website.
Browsing through content & video streaming simultaneously with our new minimizable player. Your users can login from social networks with a single tap.
Download our demo apps for testing: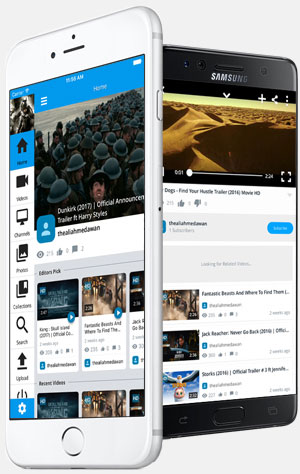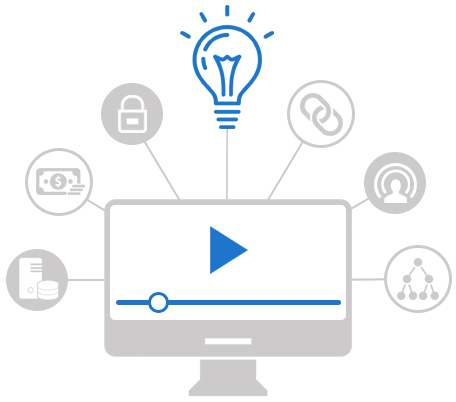 Extend Your Platform To Next LEVEL!
Let's take a look at Salient Features of Clipbucket

Multi-Server
Multi-Server is an essential plug-in for heavy traffic websites and we always suggest you to use a Multi-Server plug-in if you are planning to run a website which has potential to go live for thousands of users.

Paid Subscription
Have you ever wondered how to earn money with your video sharing website on a mass level with your content? Paid Subscription plugin is right here for you.

White Label
ClipBucket places its own tagline in CB footer by default. Since, ClipBucket is free it allows us to take a little bit of credit for the hard work we have done.

Social Connect
ClipBucket Social Connect is a plugin created for making it easy for ClipBucket customers to allow their website users to login with ease without having to fill in long forms.

Premium Templates
Millions of users love using ClipBucket because it's incredibly fast and simple. In our Template we've introduce features that will to let you be more efficient at each step. Let's take a look.

Player Ads Manager
Ultimate Player Ads Manager plugin is used to display video or banner ads in player by using HTML5 player supported ad tags.
Clipbucket Ready For All Territories
Clipbucket Ready to surf in all industries, it's very easy for professional trainers, educators and coaches to launch their own e-Learning or Training portal based on Videos.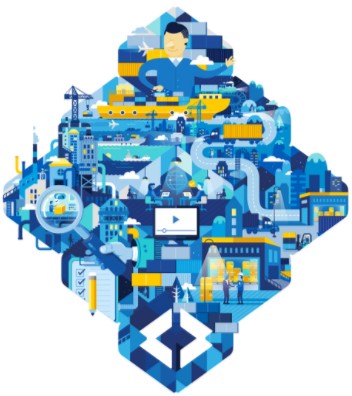 Do you have questions ?
You can frequently ask any question
Thank you for choosing Clipbucket. We help you launch your own Multi-Screen Video Streaming (Live & On-Demand) platform. we provide comprehensive end to end solution to launch your own VOD/OTT platform.